Forum rules
This is an area for new members or members looking for help with the site or Diplomacy. Off topic threads and replies will be moved to the appropriate category.
Hope that makes sense.
My instinct says no but I have been known to be wrong... once..!

---
Posts: 167
Joined: Wed Mar 10, 2021 4:15 pm
Karma: 102
Contact:
isn't that the diplomacy paradox? I don't remember how it's resolved though
---
---
Bronze Donator

Posts: 11697
Joined: Fri Sep 29, 2017 7:33 pm
Location: Allentown, PA, USA
Karma: 7465
Contact:
I kinda feel like in the situation they provide, the german fleet should take the channel.
---
But that's the whole premise of the paradox.
---
Developer

Posts: 411
Joined: Tue Mar 14, 2017 8:13 pm
Location: Perth, Australia
Karma: 674
Contact:
Here are our DATC tests on convoys:
https://webdiplomacy.net/datc.php#section6
If you see 6.F.14 - TEST CASE, SIMPLE CONVOY PARADOX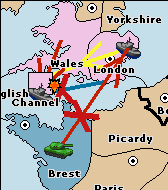 It doesn't cut support, the original test case is here:
http://web.inter.nl.net/users/L.B.Kruijswijk/#6.F.14
The justification is here:
http://web.inter.nl.net/users/L.B.Kruijswijk/#4.A.2
It amounts to: The 2000 rulebook says "
A convoyed Army does not cut the support of a unit supporting an attack against one of the fleets necessary for the army to convoy.
" but this is a bit vague, doesn't account for certain situations, and conflicts with other rules.
So the "
Simon Szykman rule
" is used, which gives the same results for the most part but isn't ambiguous or contradictory with other rules: "
If a situation arises in which an army's convoy order results in a paradoxical adjudication, the moves of all involved convoying armies fail and have no effect on the place where they were ordered to convoy.
"
---
Users browsing this forum: No registered users and 10 guests